Leather trim requires a special set of products to ensure the hard wearing, yet chemically sensitive surfaces remain in perfect condition.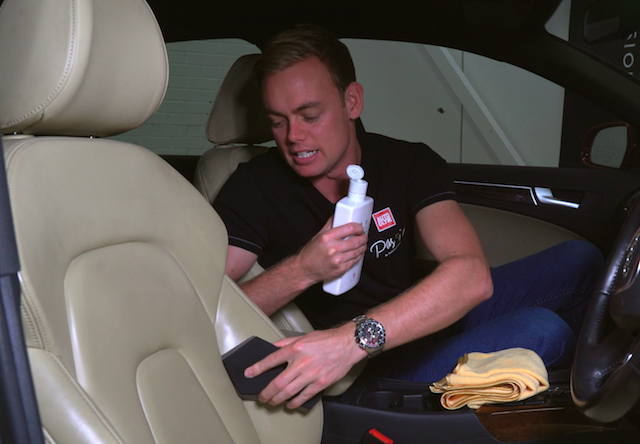 Autoglym Leather Cleaner is a pH neutral formula that can safely be used on all interior leather surfaces, as well as faux leather. It's free of silicone and leaves a natural, smooth matt finish, rather than an unpleasant greasy look.
Spray Autoglym Leather Cleaner on to the surface and rub gently with a soft clean cloth, paying special attention to any prominent dirty marks. Then you want to wipe over the area with a clean, damp Autoglym Hi-Tech Aqua-Dry; this will absorb the dirt and grime off and away from the surface. Rinse the Hi-Tech Aqua-Dry frequently in a large bucket of clean water.
With the leather now clean and dry, finishing off with Autoglym's Leather Care Balm is the best way to nourish and moisturise your vehicle's leather trim.
The Leather Care Balm is best applied with a soft cloth or foam pad, then gently massaging it into the surface. Wait a few minutes for the balm to fully absorb and buff off any excess with a microfiber cloth. Try and apply Leather Care Balm twice a year to prevent cracks and to maintain suppleness.
If you have perforated leather and find the Leather Care Balm is present in the holes after application, allow it to dry for about 30 minutes and buff away any excess with a dry or slightly damp cloth.