As most of us drive our cars on a daily basis, the steering wheel is something we constantly come in contact with. It is inevitable that grime and dirt will start to build up, especially on leather steering wheels. This leaves the steering wheel with a less than desirable feel.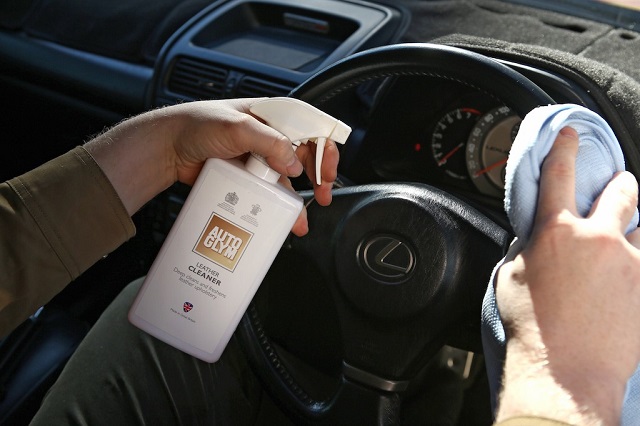 To keep your steering wheel in top condition it requires regular cleaning and maintenance to prevent damage to the material, as sweat and dirt contains many chemicals and bacteria which can breakdown leather over time.
With Autoglym Leather Cleaner, we make this task effortless while keeping your steering wheel in showroom condition. The Leather Cleaner will leave your steering wheel fresh and smell free thanks to a pH neutral formula which is safe to apply on leather, as well as Faux Leather, all while being tough on grime and dirt.
To begin, shake the cleaner then lightly apply a thin layer of Autoglym Leather Cleaner around the steering wheel so that it is evenly covered. Agitate the dirt and grime with a damp, Autoglym Hi-Tech Microfibre Drying Towel or sponge to loosen up the build up.
After two minutes, remove the remaining cleaner and dirt by wiping over the steering wheel with a damp Autoglym Hi-Tech Aqua-Dry, rinsing it frequently into a bucket of clean water.
Don't forget to do this often to prevent dirt build up so you can have a pleasant driving experience every time!
Follow us
Autoglym Australia Website
Autoglym Australia Facebook Page
Autoglym Australia YouTube Channel
We are here to help you
If you require car care advice or you're unsure on which Autoglym product to use for a specific task, please leave a comment below or head to Autoglym Australia for more information.